Raise Awareness, Decrease Exposure
Ensure that your recruiters, hiring managers and employees are aware of how to interview, manage, work and provide customer service to individuals with disabilities. We customize our training program to give your staff the tools for successful integration of individuals and veterans with disabilities.  Knowing how to communicate and work with this diverse population sets a successful foundation for compliance, empowers your business and your people.
How We Train
We develop an action plan and topics designed to meet your needs to engage and educate.
Our Methods: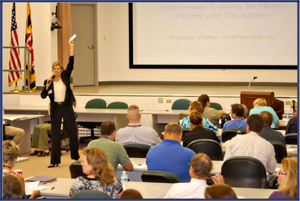 Powerpoint
Video
Role Playing exercises
Practice Interviews with individuals with disabilities
Panel sessions with individuals with disabilities
Case Studies
Handouts and Worksheets
Fun and engaging
When we develop and customize your onsite training to:
Identify desired results
Set goals and objectives
Discuss topics of concern
Understand your company culture
Review compliance directives
Support your company's vision and core values
Ready to learn?
Complete the form below and let us know how we can help you:
[contact-form-7 id="1949″ title="Training Request"]