Are you Compliant on Disability Inclusion? 
Take the Test
Do you have a solid recruiting plan?
Do you do more than just post jobs – Can you prove it?
Is your online recruiting system accessible to people who use assistive technology?
Would your recruiters know how to interview a person who is blind or deaf?
Can you accommodate a candidate with a disability 24/7?
Are you fully reaching a diverse pool of the best talent?
Are you getting results for reporting?
Now What?
We're experts at navigating the complex waters of disability. Our service solutiojns are designed to lessen your risk exposure. We help you implement successful outreach, recruiting and reporting. We can assist you in developing a proactive interactive accommodation process and provide you a strong, results driven disability recruitment program.
We Can Help
Outreach Solutions
Recruiting and Hiring Practices
Successful Reporting
Web Based Accessibility Testing, repeatable solution for your online recruiting and website
Gap Analysis which includes looking at your business, people, technical and organizational processes

OFCCP Gap Analysis
EEO Gap Analysis
Full Service Disability Gap Analysis
A complete Outsourced Solution for all of your disability compliance needs.
Did you Know 
Most Application Tracking Systems (ATS) are not accessible to people with disabilities? While most companies today suggest that all interested job seekers need to apply on-line, most ATS's are not accessible.
On July 10, 2008, the OFCCP Applicant Tracking System directive stated in part:
"While some of these systems may be accessible to individuals with disabilities, others may be completely inaccessible or only partially accessible due to technological limitations. Irrespective of the level of accessibility of the online application system, federal contractors and subcontractors must ensure that qualified individuals with disabilities and disabled veterans have an equal opportunity for employment."
Lack of accessibility affects not only businesses, but more than 54 million Americans who need accessibility to compete, including our aging population and our Veterans.
What are HirePotential's Clients Saying?
I am pleased to recommend Ms. Sheridan Walker, CEO and Founder of Hire Potential.  Our organizations have worked with Ms. Walker on several occasions to assist us with preparing for Office of Federal Compliance and Contracts (OFCCP).  With Ms. Walkers guidance and development of a short and long term plan for Section 503 Rehabilitation Act of 1973 and Section 508 she was instrumental in helping our organization pass our first ever OFCCP audit in 2010. We have consistently found Ms. Walker and her company to be an important resource for continued compliance and awareness as it relates to business solutions for accessibility, accommodations and employing people with disabilities.  As the laws change Ms. Walker continues to provide the appropriate information to help us provide departments with the information that is needed to update our policies and train our employees.  With the continued approval of new laws Hire Potential is an organization that you will want in your corner to assist with maintaining your regulatory requirements. Shirley Martinez, EEO Specialist Senior, Colorado Springs Utilities
Good Faith Effort doesn't cut it. Protect yourself. Contact Us today at 888-590-8808 or info@hirepotential.com
---
What is OFCCP?
The OFCCP or Office of Federal Contract Compliance Programs is a division of the Department of Labor. Their stated mission is as follows: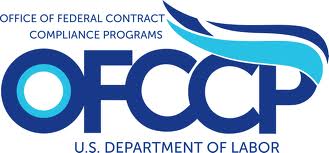 "The purpose of the Office of Federal Contract Compliance Programs (OFCCP) is to enforce, for the benefit of job seekers and wage earners, the contractual promise of affirmative action and equal employment opportunity required of those who do business with the Federal government."
They monitor, assist and recommend enforcement actions against government contractors and subcontractors who have work with the Federal Government exceeding ten thousand dollars. If your company or any part of your company does business with the federal government – you are required to be OFCCP compliant throughout your entire company, at all times!
The OFCCP can apply remedies and sanctions against your company up to and including contract cancellation and/or debarment from future Federal contracts.