Pace yourself
The eLearning format puts you in the driver's seat. No schedule conflicts or attending a class, no assignment due in a week. You set the pace and manage the training.  This training format gives you 24/7 access, provides consist learning and knowledge to all employees to ensure quality assurance on information that is key to your organization.
Try it
Twenty-five years later, we've learned a lot about inclusion in the workplace and as customers. We know what works (and what doesn't). Our courses focus on the practical, day-to-day issues of successfully including and employing people with disabilities, and what it takes to create an integrated workplace and other environments. Our courses address:
Awareness and Etiquette
Recruitment
Hiring Practices
IT and Web Accessibility
Compliance Issues
Accommodations
Course components
25-45 minute modules
Real-life examples
Downloadable attachments
Demonstration video clips
Call-outs
Quiz questions
Certificate of completion
Can sit on your LMS
Make it yours
We can customize any of our eLearning products with your company's unique brand, logo and messaging.
Sample a demo:
So much to learn, but so little time?
Give eLearning a try. Contact us today at 888.590.8808 or info@hirepotential.com
Our eLearning Products: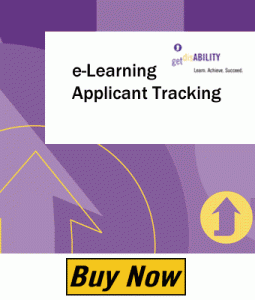 OFCCP: Applicant Tracking Access or Accommodation  
Do you know the risk exposure of your applicant tracking system.  Is your online recruiting system accessible to all people? Are your reporting numbers lacking with your disability candidate pool? Do you know the real difference between accessibility and accommodation? What you don't know about recruitment of persons with disabilities will hurt you!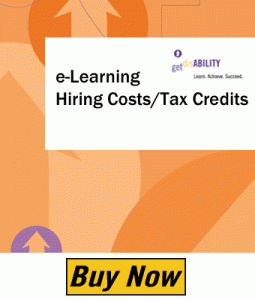 Offsetting Hiring Costs with Employment Tax Credits  
How much money are you leaving on the table? Do you have high turnover? How much of your money are you allowing the IRS to take? If potentially 10% of your new hire employees would qualify for a tax credit worth up to $9600 per employee, wouldn't you want to know about it? Learn how to increase your cash flow with this easy step by step process provided in this course.
Are you new to Web Accessibility Development? Are you currently being questioned about not having an accessible website. Do you know the accessibility development guidelines and standards? Are you frustrated because you can't find the information that you need? This eLearning Course has been created to provide developers with quick access to the information they need to understand the basics of Web Accessibility Design.
Do you know the Federal and State regulations around the important accessibility issues? Do you know how accessibility can and will affect your business? Are you aware of the global accessibility laws currently in place? Find out the facts of why accessibility is critical to your business in regard to revenue, outreach and global markets.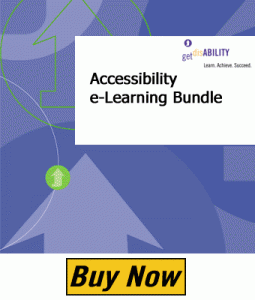 Web Accessibility e-Learning Bundle  
This bundle combines the Web Accessibility Design and Accessibility: The Facts eLearning courses. Buy both and save!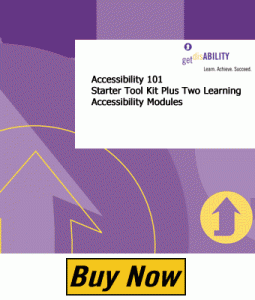 Accessibility 101 Starter Tool Kit Bundle 
This package includes the Web and IT Accessibility 101 Starter Tool Kit eBook with both of  the Web Accessibility Design and Accessibility: The Facts eLearning courses.  You will have every training modality needed to understand and fix a basic accessibility coding problem.
Stay Turned for More eLearning.
Coming Soon –  The Interactive Accommodation Process and Implementation,- Disability Etiquette and Awareness, – For Recruiters: Recruiting and Interviewing People with Disabilities – For Recruiters: Out REACH and Compliance Starter Kit – For Managers: Interviewing and Managing People with Disabilities – Assistive Technology: Basic and Most Commonly Used – A Business Model: The Inclusion of People with Disabilities in Corporations.