October is National Disability Employment Awareness month, and includes National Disability Mentoring Day, which falls on the third Wednesday of the month. It was created in 1999 to bring greater awareness and national attention to the employment opportunities for people with disabilities.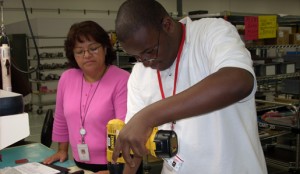 Mentoring Day gives students with disabilities the opportunity to visit a business or government agency to learn about careers of their choice and to experience the workplace environment for a day. It is encouraging that businesses open their doors to these students who have career desires and aspirations, like all students.
It takes an individual with a disability 10 times more interviews prior to being hired than the average candidate – and it is not because the individual with the disability is not qualified. For the most part, it continues to be the fear and attitude barriers of hiring managers that are created by a lack of knowledge, understanding and experience.
Mentoring Day gives both the student and the managers an opportunity to gain knowledge and understanding for the desires they each have in a comfortable supportive learning environment.
HirePotential is asking you, businesses, to step up, expand your knowledge and mentor a student with a disability. You will be building your future as well as the future of a student with a disability!